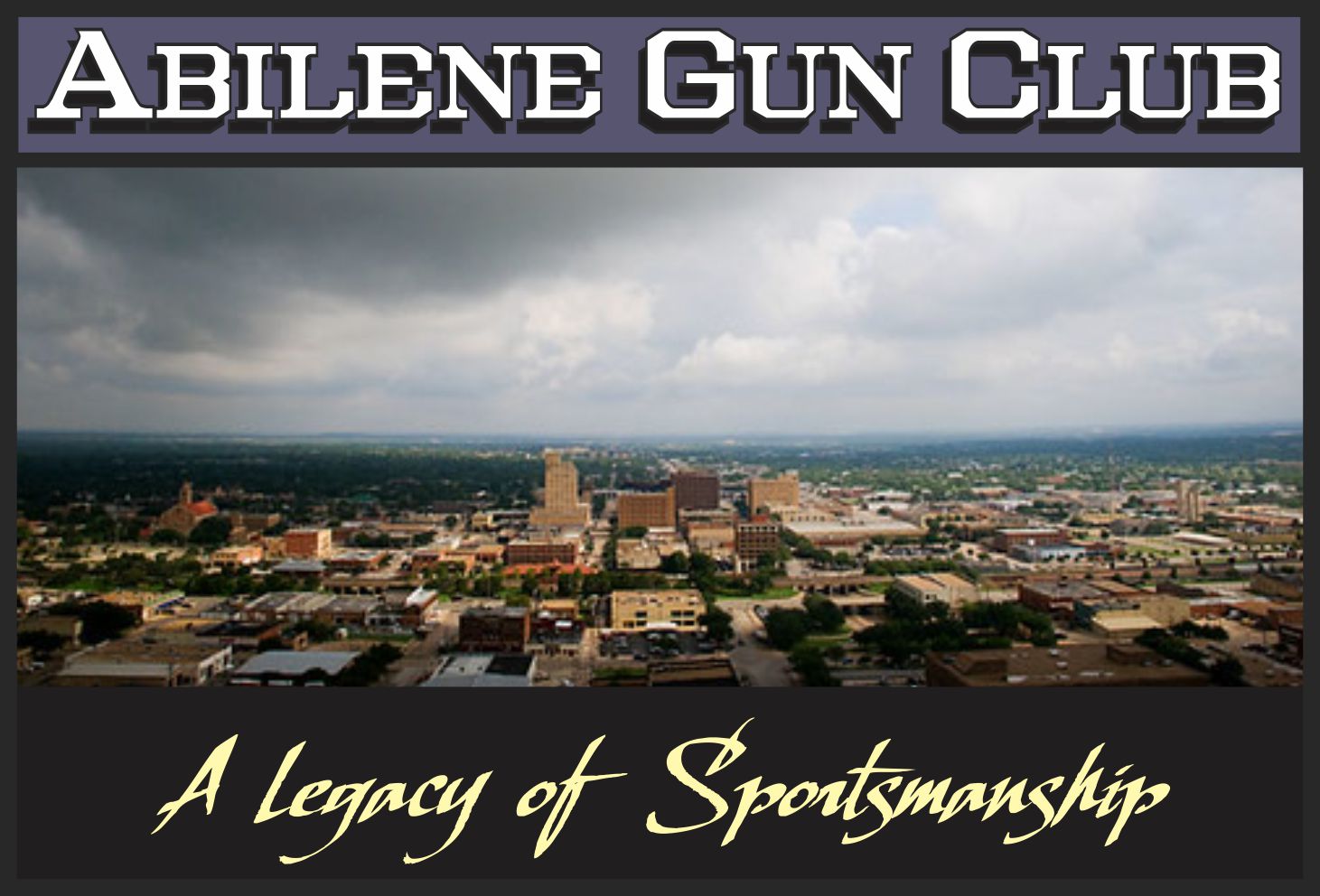 NOTICE!!!
ONCOR (the power company) will be servicing the lines
behind the range Wednesday and Thursday. Call the range
to find out when it will be accessible.
325-672-0100
Range Rules Membership Fees Calender of Events
Competition Information Match Results Contact Us
The Abilene Gun Club is a not for profit organization dedicated to promote safe and responsible gun ownership. We boast 23 acres and are a family friendly outdoor recreational rifle and pistol shooting range. With approximately 1000 family membership holders that include men, women and supervised youths. The property is managed daily by a range officer to ensure the safety of members, non members, guest and the public. We invite you to come out and spend the day shooting or just stop by and visit, we are located in Jones County 4 miles north of Highway 351 on Eastlake Road near Lake Fort Phantom.
The Abilene Gun Club is listed on the Abilene Convention and Visitors Bureau Website. Various competitions at our range draw participants from Dallas, Ft. Worth, Midland, Odessa as well as the surrounding areas, often these visitors contribute to our communities economic growth by spending their dollars in our local businesses including restaurants and motels. The Abilene Gun Club has also served as host site for some of the Reunion Activities of the 12Th Armored Division. The Abilene Gun Club is also proud to be the host site to Big Country Well Armed Woman Chapter.
The Abilene Gun Club has existed in its current location for over fifty years. The club was founded in the late 1940's after WWII. During this time we have made our facility available to the Abilene Police Department prior to the construction of their nearby facility. The local prison system uses our facility in order to qualify their officers. Dyess Air Force Base security personnel use various rifle and pistol set ups in order to gain additional practice time and training. The club grounds are also utilized by several concealed handgun instructors and these instructors have qualified in excess of 2000 license holders at our facility.
Members and non members - can enjoy the 25 yard to 200 yard firing line with covered shooting benches, as well as one covered 25 yard pistol bay equipped with three movable target boards to accommodate shooter's preference.
Membership includes - range officer approved access to two additional 40 yard covered pistol bays and one 300 yard and 400 yard rifle bench covered firing line. NOTE Pre qualification is required prior to access to the 300 and 400 yard range. Covered competition only Muzzleloader and pistol bay for use by qualified match.
Membership holders and visitors may rent classroom space. Great space for CHL classes, safety instruction and small gatherings. Cost and additional information located under the Membership Fee tab.
All firing lines are equipped with back boards for shooters target placement.
Competition shoots
The Abilene Gun Club host a variety of monthly competition shoots.
CMP Civilian Marksmanship Program Vintage Bolt Action and M1 Garand
NRA High Power
Bullseye Pistol
Lever Action Silhouette
.22 Sporter Rifle
National Rifle League .22
NOTE all matches are club fun shoots unless otherwise stated. Sanctioned match rules apply.
©Abilene Gun Club Inc all rights reserved. Page Last November 10, 2021